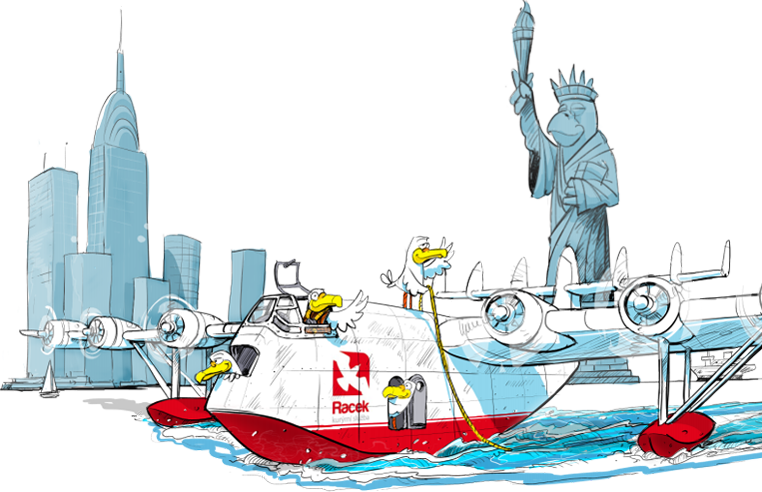 Air transportation to 240 countries of the world
Racek kurýr offers to its clients using the air transport to the whole world, with the delivery to the most common destinations until the following day. The client has the consignment under its control throughout the period of transportation based on the monitoring number.
Our operators at the client line 775255665 or 226531988 will notify you willingly of the specific calculation of the air transport. This service is intended mainly for the clients of Racek kurýr s.r.o.
The replies to the frequently asked questions
How to order a consignment?
You can order an air consignment outside the Czech Republic either classically on-line in the client system (kindly write in the item "town", in addition to the town name, also the country of delivery and postcode). It is also important to provide the Consignee's name and telephone details. Or send us required information to the e-mail address info@racek-kuryr.cz, and we will take care of the rest.
How can I find out when a consignment was delivered or to whom?
We send the confirmation of the consignment delivery in a standard way via e-mail provided upon the registration of the client; further you can watch the consignment condition after registration into the client zone at www.racek-kuryr.cz and at the same time you have at disposal the monitoring number of the consignment where you can see its movement on the way to the addressee.
When does the courier collect a consignment, do I have to prepare anything for him?
The consignment is collected usually within 120 minutes. You will receive the air sheet from our operators after ordering the consignment via e-mail that has to be printed in four copies and hand over to the courier with the consignment.
Should I pack a consignment in a special way?
Couriers have packaging materials that we provide for these cases free of charge. For common documents you will receive the safety envelope from the courier, for larger consignments we have prepared boxes of various sizes. Of course, you can also use your own packaging. Ask our operators for transportation boxes.
Is a consignment insured?
When ordering a consignment, you should inform us of the value of its content due to the payment of customs duty and insurance. We guarantee for the consignment up to the value you have provided.
Can I apply my client discounts for consignments outside the CR?
Yes, you can apply the discounts you have set for the domestic transportation also to the air international transportation. Consignments are always invoiced together with the other consignments at the beginning of the month for the past month.